Tony Rino's passion for spirited music began in his teens. He loves to sing, and it shows in his performances! Tony is an entertainer, fundraiser, emcee and recording artist. He has performed for distinguished audiences including the Prime Minister of Canada and Italy's Ambassador to Canada. Tony enjoys singing with the Calgary Opera Chorus, and has starred on TV and radio as a narrator, host, singer and a role on The Movie Show as the Singing Chef.
From 1996 to 2004, for more than 200 NHL games, Tony sang National Anthems for the Calgary Flames. He has also performed anthems for many other teams including the Calgary Stampeders, Calgary Hitmen, Calgary Cannons, and Calgary Vipers.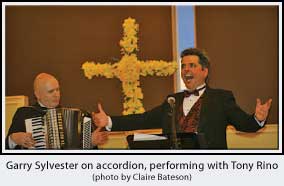 Tony has performed at hundreds of charitable events supporting many charities including Project Rachel, Saint Vincent de Paul, The Father Lacombe Care Centre, L'Arche, Development & Peace, The Mustard Seed Street Ministry and The Annual Bishop's Appeal. He has also performed and raised funds for The Canadian Cancer Society, Rotary International, The Royal Canadian Legion and VoicePrint.
Joined by his father Joe and his son Joseph, the "3 Tenor Rinos" or "Il Rino" perform at many charitable events. Il Rino first performed together in 2003 at the 5th Annual A Song for Rachel Benefit Concert. Since then, this 3 generation trio has performed at dozens of charitable events.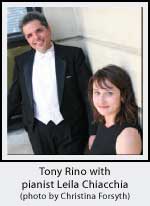 Tony's Debut CD "Grazie" sold out in 2005, generating over $13,000.00 in funds for charities. His second CD "Prego" was released in 2006, with a portion of sales being donated to charities. Prego and Grazie can be purchased on iTunes.
Turn up the Christmas
Tony's third CD, available in mid-November 2016, is an exciting rock/opera project called "Turn up the Christmas (volume eleven)" that features classic Christmas carols sung operatically with a rock soundtrack. Recorded at OCL Studios, the CD features numerous award winning musicians, including producer Russell Broom. Learn more about Turn up the Christmas here.
When he's not singing, performing or being an Emcee, Tony Rino is a digital marketing manager and communications consultant.
Some of the events Tony has emceed include:
A Date For Dignity (2016)
The Muscular Dystrophy Association Gala (2014)
The Calgary Italian Canadian Foundation Golf Tournament (2014-2016)
The World Petroleum Youth Congress opening ceremonies (2013)
High Hopes for High River fundraiser (2013)
The Woodridge Charity Golf Open (2010)
The University Eye Foundation Gala (2010)
Town halls and events for corporations like Imperial Oil, Tervita and Boardwalk
The annual Song for Rachel fundraiser (since 2003)
Dozens of other charitable fundraising events